Today I'm linking up to this: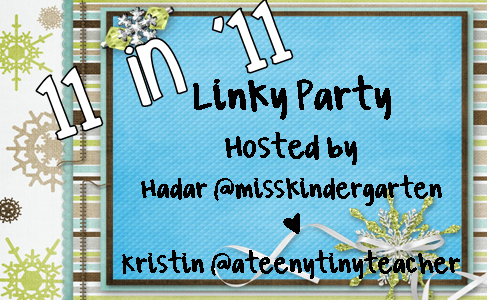 It's a linky party to share some of the best things that happened in 2011!
So, here we go:
11. Favorite Movie You Watched
Hands down, it was this. Harry Potter and the Deathly Hallows Part 2. I kind of came late to the whole "Harry Potter Mania" thing. But, I LOVE the books and I LOVE the movies. And, this movie was the best of them all. It was soooo good!
My favorite series was definitely Modern Family. I don't think there is a funnier show on television. I especially like Phil, Cam and Mitchell. I have all the seasons on dvd and I just pull it out and watch it all the time. It never gets old :)
It's not fancy. But, Zaxby's is absolutely my favorite place to eat. And, we got TWO new ones this year. So, I've ate there alot. It's where my friends and I go the most. In fact, I ate there for lunch today, ha!
8. Favorite New Thing You've Tried
That would be my blog. I've been reading blogs for a looong time. And, this summer, I just decided to bite the bullet and set up one of my own. I'm so glad I did! It's been so fun and I've really enjoyed having a way to share my ideas and journal about what's going on.
7. Favorite Gift You Recieved
My Kindle Fire! This little thing is AMAZING! It obviously holds books, which is great. But, it gets internet and has tons of apps. It's basically an ipad only a little smaller and more convenient! And, on a related note, why am I just now playing Angry Birds? I'm addicted.
6. Favorite Thing You Pinned
There's a story behind this. But, it just makes me laugh every. single. time.
My favorite post is
Creepy, Crawly Spiders!
I just like it because I think there are some good ideas in there and I'm soooo proud of my kiddos' writing that week! Plus, it's the most popular post on my blog by far... like, it has double the hits of any other post. Almost a thousand. Which, for this little blog, that's insane. Ha.
4. Favorite Accomplishment
Well, I bought a house this year. So, that's definitely my biggest accomplishment!
I don't really know why, but I love this picture! It was taken last year at Land Between the Lakes. We take the second graders at our school there for 3 days every spring. And, I obviously teac first grade. But, I got to go last year and it was just sooo much fun. On this night, we were playing in a big gym and the kids were playing a Sock War game. A few us were sitting in this window trying not to get hit. It was just a super fun trip and I love these girls. So, that's why I love this pic :)
My favorite memory this year was getting to go see my brother pitch for the first time in the minor leagues and get his first win as a professional! Matt's an awesome kid and I couldn't be a prouder big sister. I'm looking forward to getting to watch him pitch many more games for the Royals!
I have three. One is to lose weight for Matt's wedding next fall. I don't know how that's going to happen with all the craziness I take on at school. But, I'm going to try! The second is to get a dog this summer. That's going to take a lot of work on my part, too. And, the third is the same every year: to get my sweet little babies to benchmark... and, much higher! So, here's to hard work :)
All in all, 2011 was awesome.
I can't wait to see what 2012 has in store!