I might have just payed a deposit.
For a puppy.
Who isn't even born yet.
You see, I've been wanting a puppy for a while now. But, I for sure didn't want to get one during the school year. It seems mean to crate up a tiny puppy all day. So, I want to be home the first few weeks so I can train it and love it and enjoy it.
And, my mom mentioned yesterday that if I wanted to get a puppy the first week of June, I should probably start looking. Since that would mean they would be born in April. Oh, yeah. I guess you're right, mom. Ha.
So, I called today and found a breeder that has adorable cockapoo puppies. And, lo and behold, she has a litter that is due April 15. And, when are these precious babies available to go home? Why, June 1! Woo hoo!
So, I'm a tiny bit nervous. It's a big commitment. I'm also a little nervous because I don't love the idea of getting a puppy I haven't seen. I kind of want to pick out the color and all that. But, the litter has five puppies and I will get the second pick... so it'll be fine. I'm just a worrier. My friend told me I will think whichever puppy they put in my arms is the cutest thing I've ever seen. And, she's totally right!
Oh, and it has a name. Finley. Boy or girl. Doesn't matter to me. Finley is its name.
Want to see what a cockapoo puppy looks like? Sure you do...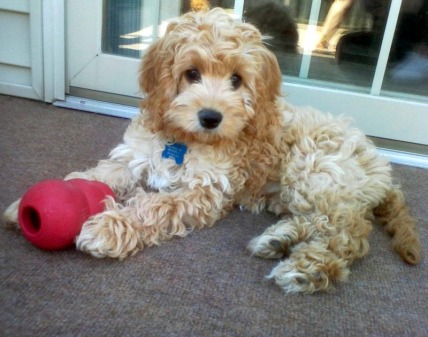 Again, who knows what color it will be. The breeder thought the puppies would probably be darker rather than lighter. But, they all seem pretty cute to me!
Fair warning: you may get some cuteness overload this summer on the blog.