Well, it's that time again! Time to link up over at Blog Hoppin' for Teacher Week. I got so many good ideas from this link-up last year so I'm really excited to see all the great stuff!
Today, we're supposed to post about our teacher must-haves! So, here are mine:
1. Crayola Markers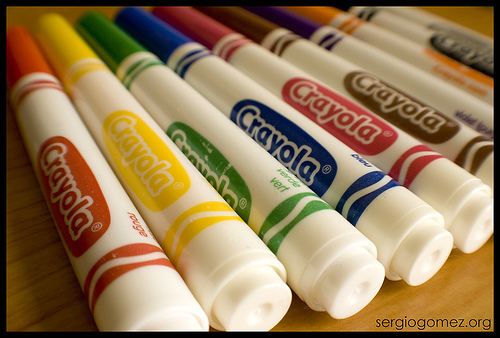 If you like making anchor charts as much as I do, Crayola Markers are a MUST. And, I'm a snob. I'll only use Crayola. I was desperate one day and used some Roseart markers and I almost cried in sadness. It's just not the same. I used to use the fat Sharpie markers but they soaked through the pad of paper and that's no fun.
I even let the kiddos use them sometimes!
2. My Elmo
I seriously don't even know what I did without this thing! I guess I used an overhead projector. Luckily, I got an ELMO about half-way through my first year of teaching so I didn't have to go without one for too long :) It's so useful to have a way to project the worksheets and stuff my kids are doing onto a screen so I can show them directions and examples. I'll say 100% the quality of my kids' work is better when I show them how to do it on the ELMO first.


3. A Big Ol' Teacher Bag
I absolutely have to have a teacher bag. And, the bigger the better! I ordered this one from Ballard Designs this summer. It was $25 and the monogram was free! Shipping was free, too! It's HUGE! I wanted it to say Ms. Ridings, but it was too many letters. So, Lindsay had to work. I've gone through several teacher bags and really any big bag will work. It's just great to have a bag that contains all your grading materials (read: CRAYOLA MARKERS!) and that you can throw all your stuff in to take home.
4. Lots and Lots of Containers and Bins
To say that I have a lot of storage bins in my classroom would be a gross understatement. I realized moving classrooms this year just how bad the obsession has gotten. I have a TON! I'm pretty much obsessed with organization in my classroom and I need for everything to have a container. Otherwise, your room gets junky and looks cluttered. I have bins from a lot of different places. My favorites come from the Dollar Tree and Big Lots. Target has good storage bins, too.
5. Plastic Drawers
I currently have 4 of these babies in my classroom. They are an absolute must for organizing papers. One contains writing paper and computer paper so that I can grab it quickly when I need it. Another one holds all my scrapbook paper. I bought one this summer to hold all of my students' pencils and erasers. My big one has 6 drawers. I keep it on the counter and use it to store worksheets, homework, etc. It's labeled by subject so I can quickly find what I need. Oh, and I just remembered I have another one on the file cabinet by the door that holds labels, pens, paper clips and all that stuff. Really, these are just the best for storage.
6. Clothes Pins
I use clothes pins for everything in my classroom! Here are some ways I use them:
In our classroom library, the kids use their clips to mark which bin their book came from. That way, they know where it goes back.
We store them on ribbons that are hot-glued to the wall.
I use them to hang up student work on bulletin boards.
I use them for center management.
I use them for behavior management.
That's a horrible picture, but I also use them to group kids for guided reading.
7. Pinterest
This doesn't really need an explanation. I use Pinterest DAILY for coming up with ideas and planning lessons. It used to be pretty exhausting to search blogs and googles for ideas. Now, it's all in one place and easy to access. It's changed my teaching so much - in a good way!
8. My iPod and Docking Station
I play quiet music all day, every day in my classroom. It's soothing and calming and I think it's good for your brain. My playlist is quite varied! It includes some classical music, some Disney tunes without the words, some slow pop music without the words, IQ music and the Harry Potter song! I've literally had the same playlist for the last 4 years. You'd think it would drive me nuts after all that time, but it doesn't! I also have a fun playlist that I play at times when we're having fun. It's just some Disney songs and some clean music that's appropriate for kids.
9. Lamps
This picture shows two of the SEVEN lamps currently in my classroom. I have to have lots of lamps. They make a classroom more inviting. Florescent lighting is not good and lamps just give the room a more homey feel. Plus, I've discovered that turning some of the overhead lighting really helps with the noise level and calm level. As the years have gone by, I've done more and more teaching with the overhead lights off. If you have a lot of lamps, it is still plenty bright enough to see and work! I know it sounds weird, but the kids love it and I do, too.
10. My Laptop
I know it's kind of a given, but I use my laptop so much! I kind of love to make graphic organizers and activities for my kiddos on my laptop. I'd be devastated if it crashed and I lost all the things I've made on it. I really need to back it up with a flash drive. I've currently been downloading a bunch of new fonts so that my worksheets will be extra cute. Here are some things I've created on my laptop:
Me on the Map flow map
Character Books for the Wizard of Oz unit
Graphic Organizer
Writing Webs
Okay, I think that's enough examples. I kind of got distracted going back and looking at past blog posts I hadn't seen in a while. I forgot some of the stuff we did last year! Except for the first one, all those examples were from first grade last year. I'm excited to use my laptop to make some new sheets for my third graders!
Thanks for reading my teaching must-haves. If it's your first time reading my blog, feel free to look around!